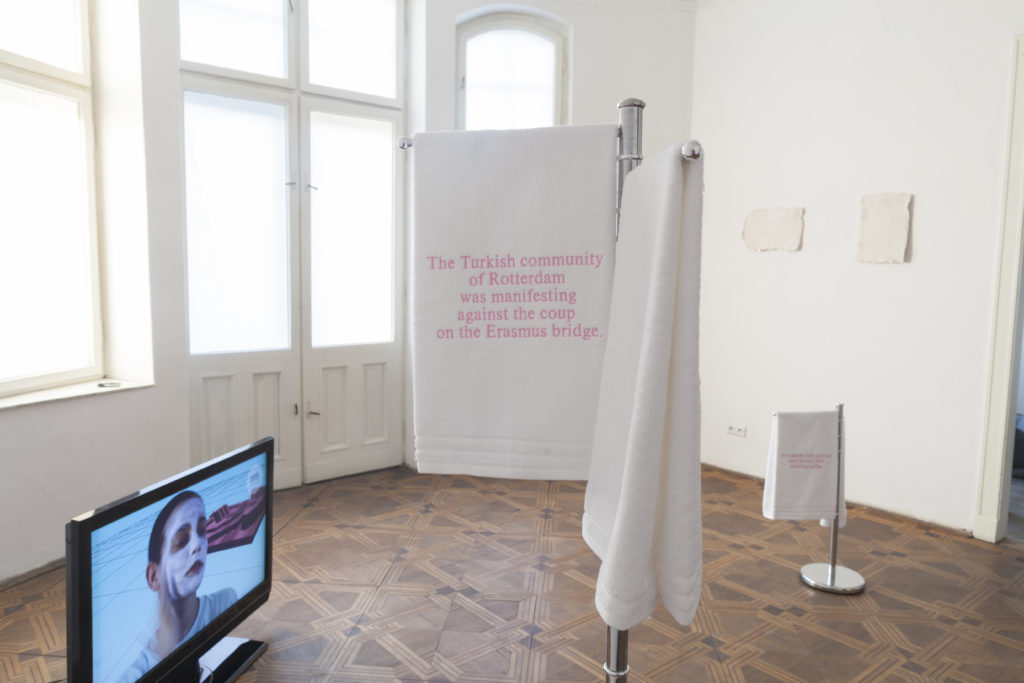 Magic Mud Mask, installation, clay tablets, fired ceramics with claze drawings;, Magic Mud Mask, video, 6', loop; "One morning in July(…)", embroidery on towels, towel hangers, metal.
Lokal_30, Warsaw, PL, documentation by Maciej Łuczak, 2016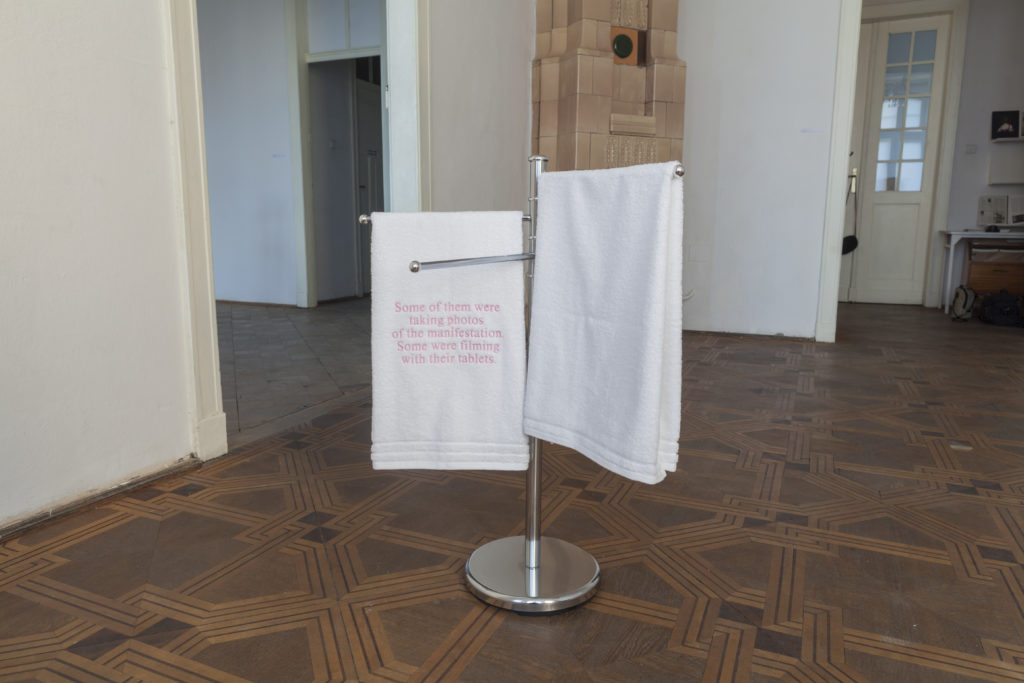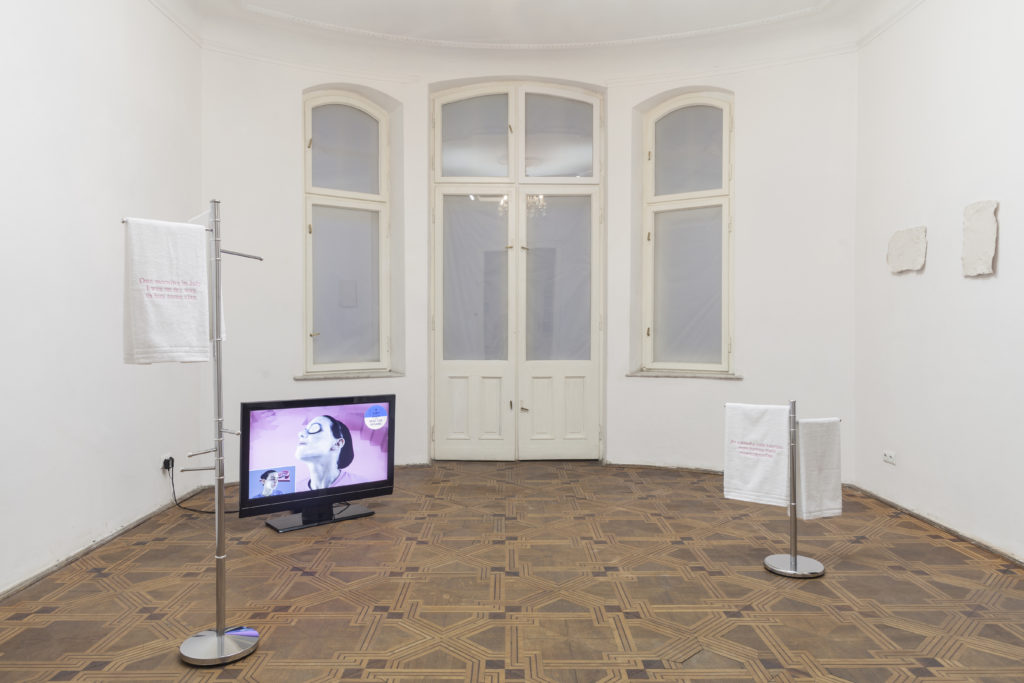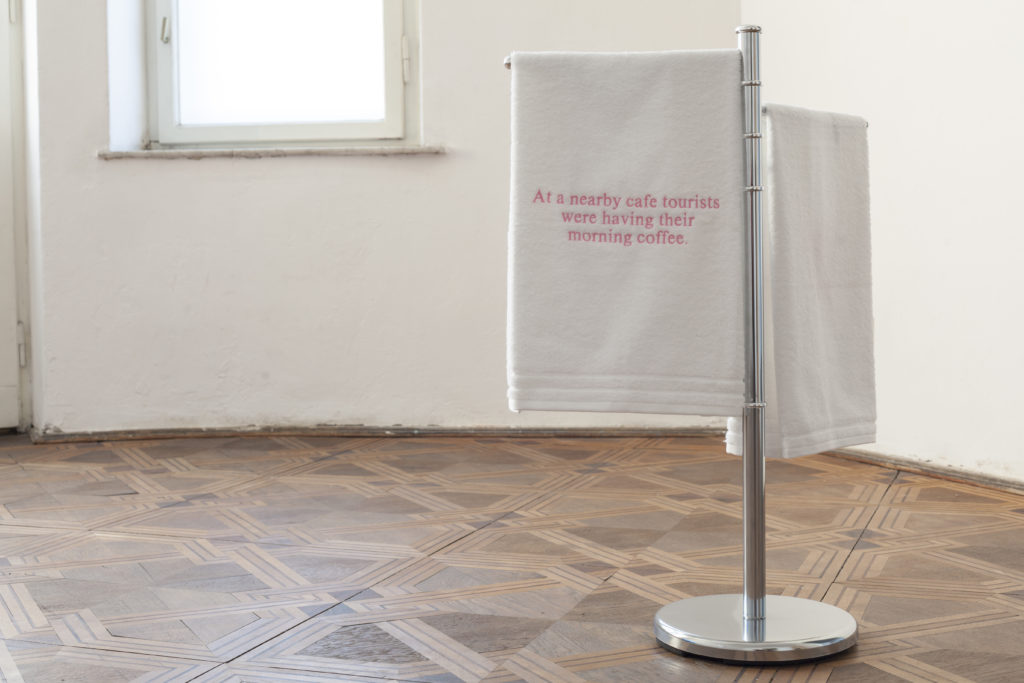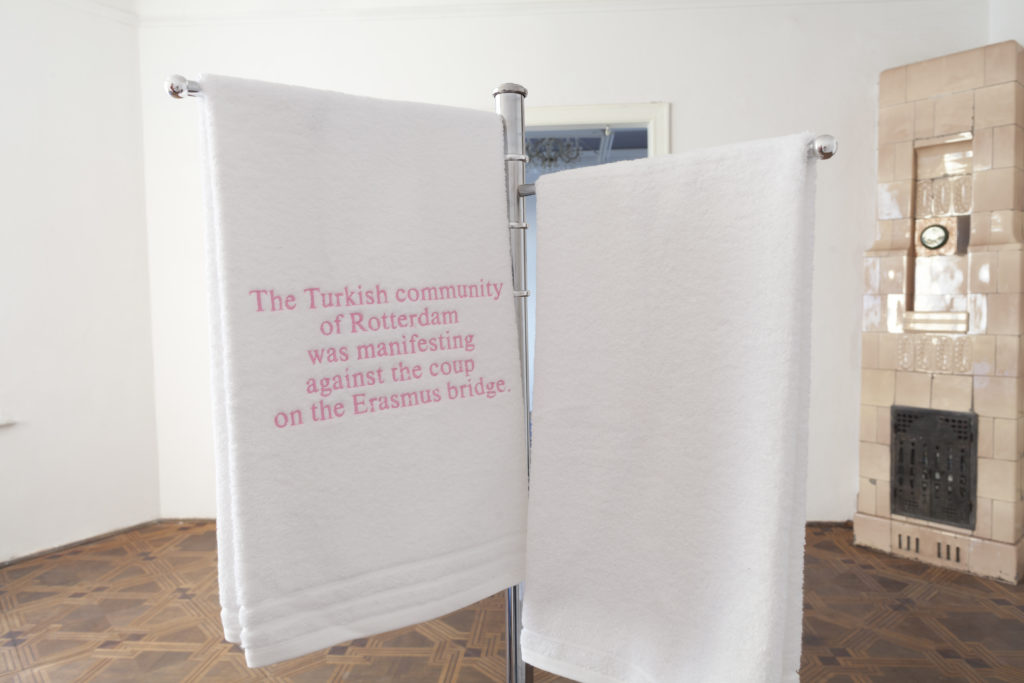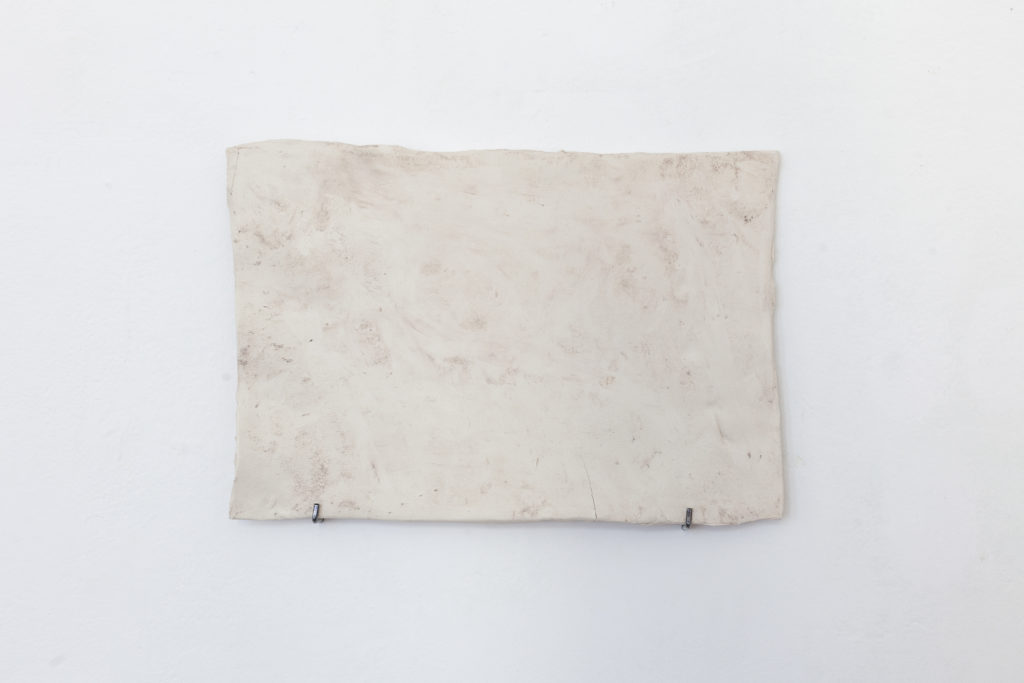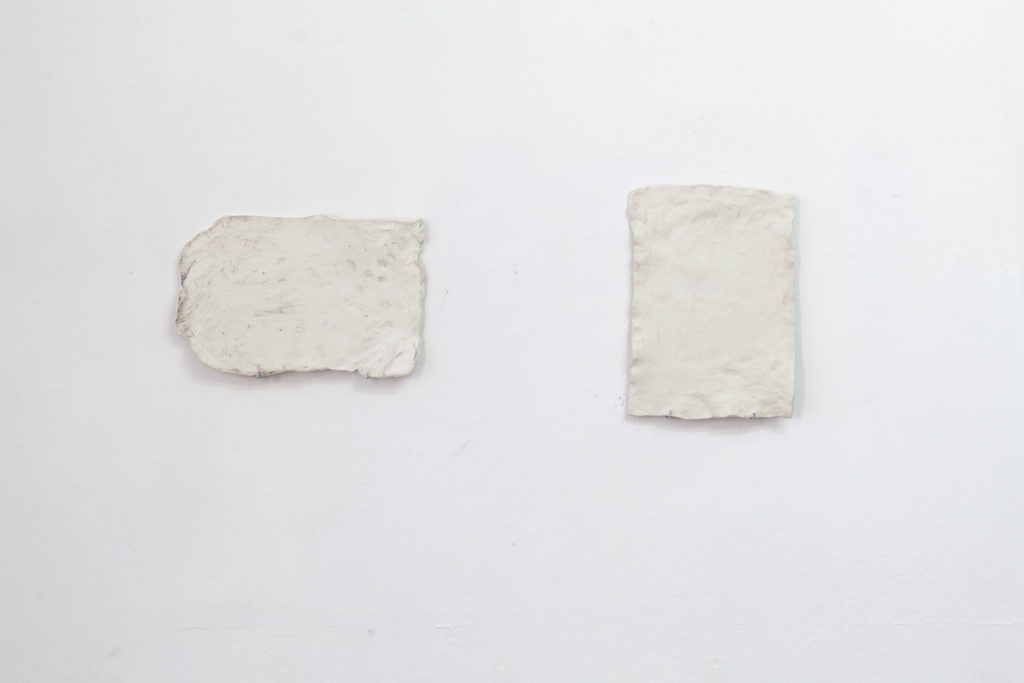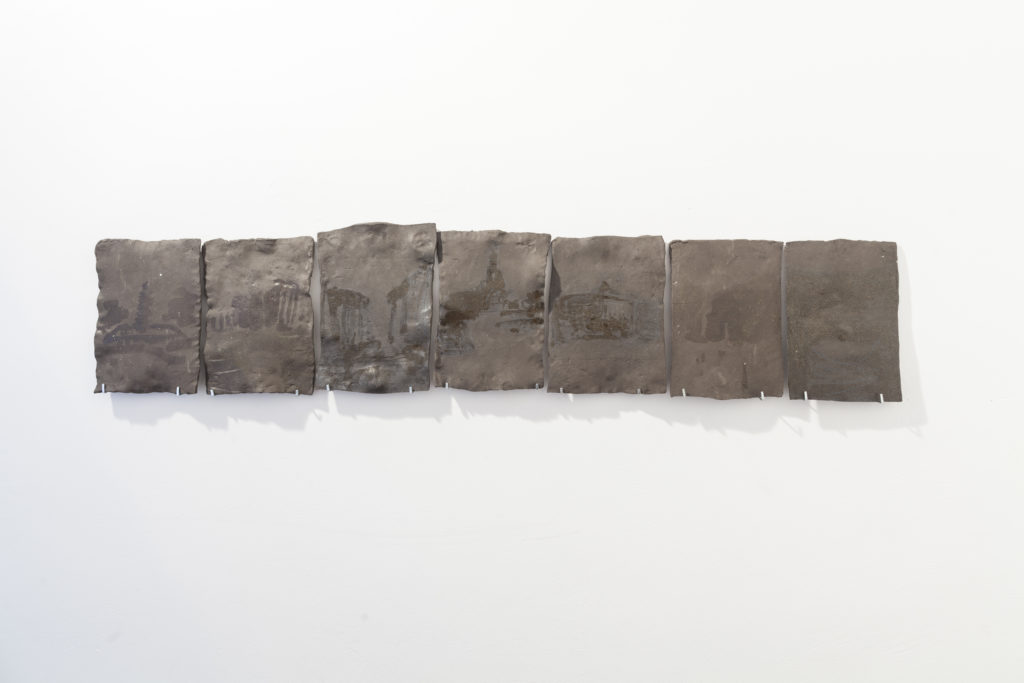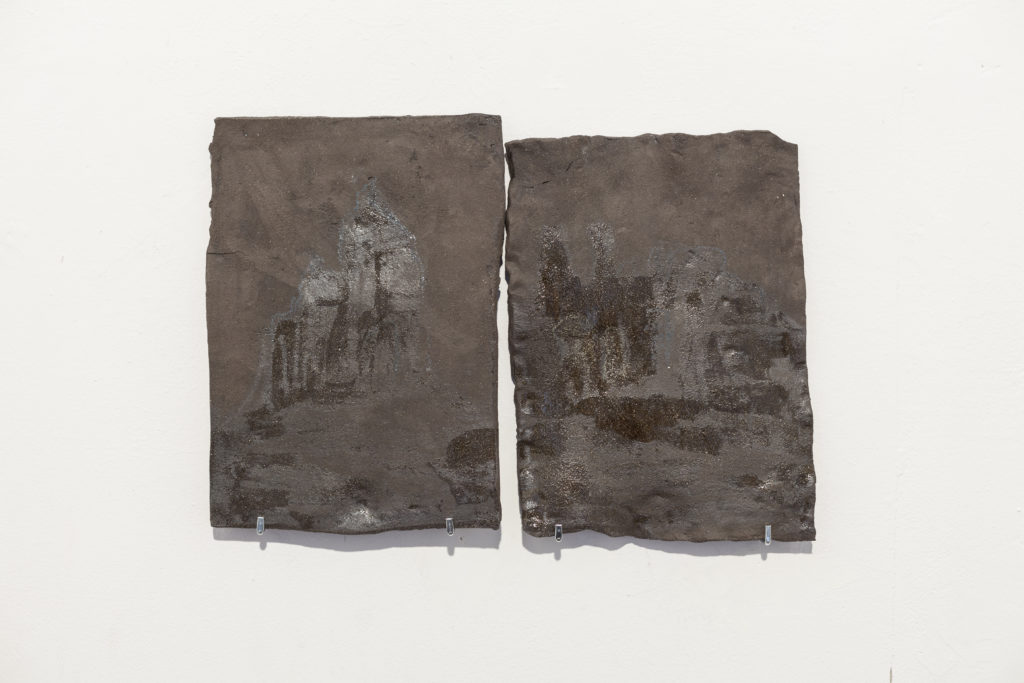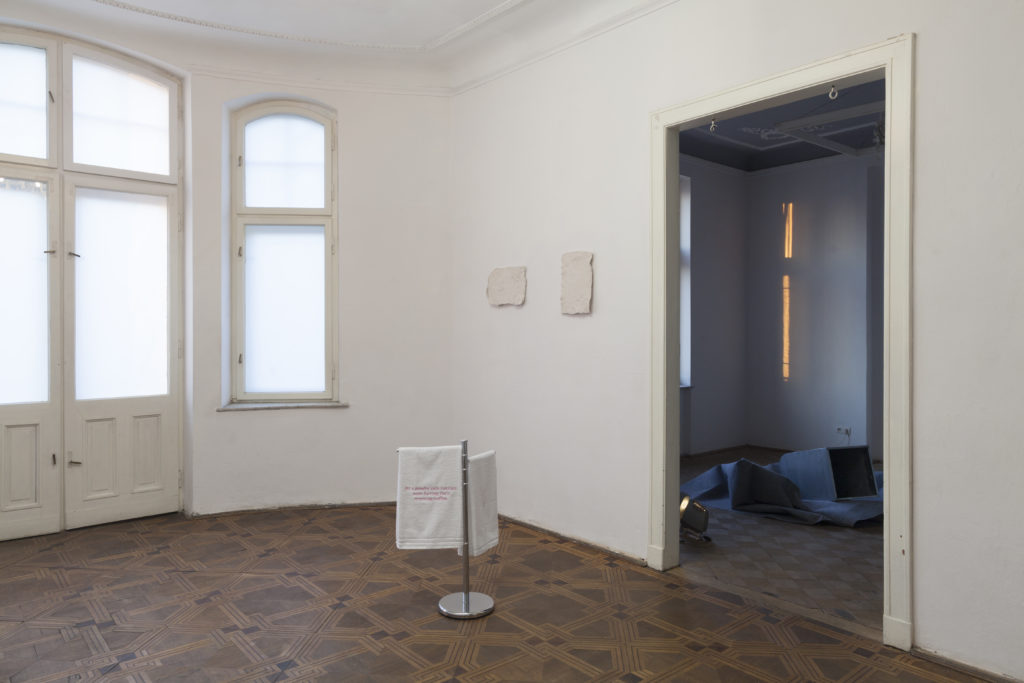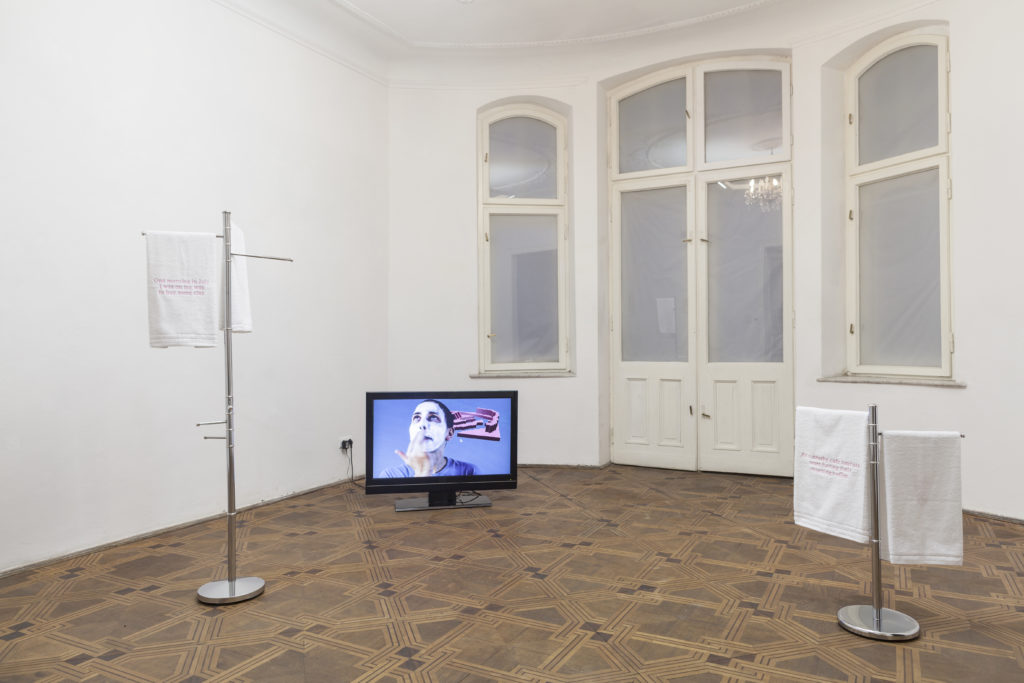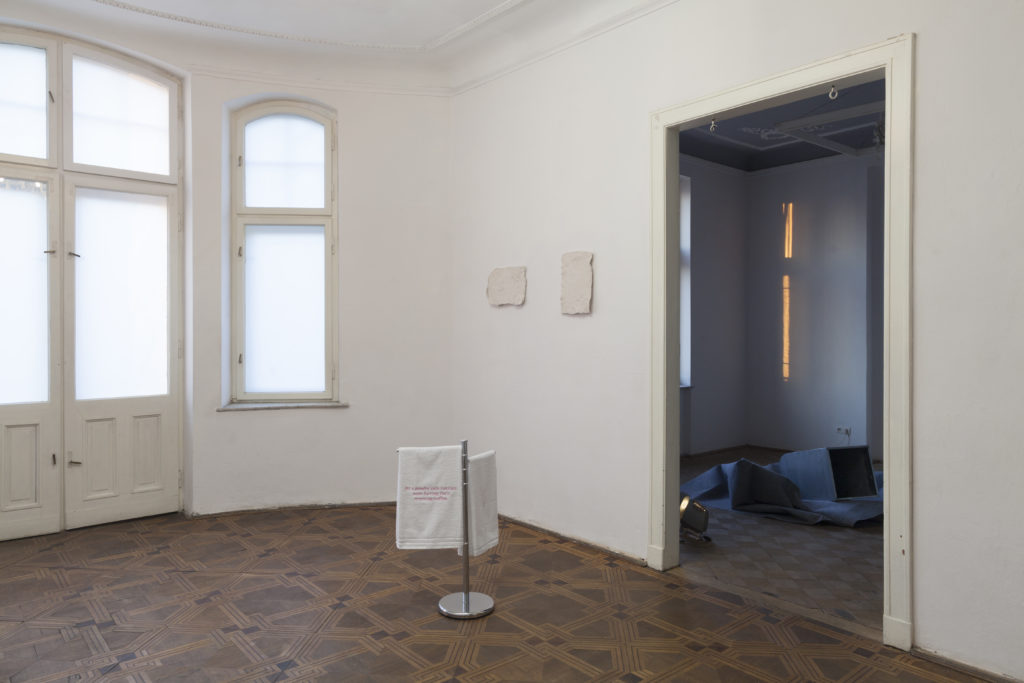 Eloise Sweetman Essay For Anna Maria Łuczak
In Rebecca Solnit's essay Woolf's Darkness: Embracing the Inexplicable[1] she says it is the task of writers and explorers to go into the dark with open eyes. When I read this, I thought of the role of artists, and I thought of Anna in particular. It is because of our friendship and the time that I spent with Anna's artwork that I have begun to think through the obligation to step over the threshold into uncertainty. It was accidental that I read Rebecca Solnit's essay as I was trying to unpack my response to Anna's artwork. Rebecca Solnit's essay is about Virginia Woolf and what it is to confront the unfathomable. It was an antidote to my worry about not having the right words, or should I say that the essay was a reassurance?
When Anna was making the video work Magic Mud Mask (2016), she told me the situation that inspired the work, causing her to question active engagement and indifference. On her way to buy clay at the local art supply store she encountered a demonstration. National flags were whipping dangerously in the Rotterdam wind. A crowd was calling out the government of their homeland for grievances against their loved ones. It was a Sunday, and the café goers close by were enjoying their brunch and the warm morning sun. Their relaxation time interrupted, and their discomfort became present by protest slogans that were fighting against the wind. I imagine Anna on her bike, without her brakes, using her heels to slow down to watch this scene divided by the road.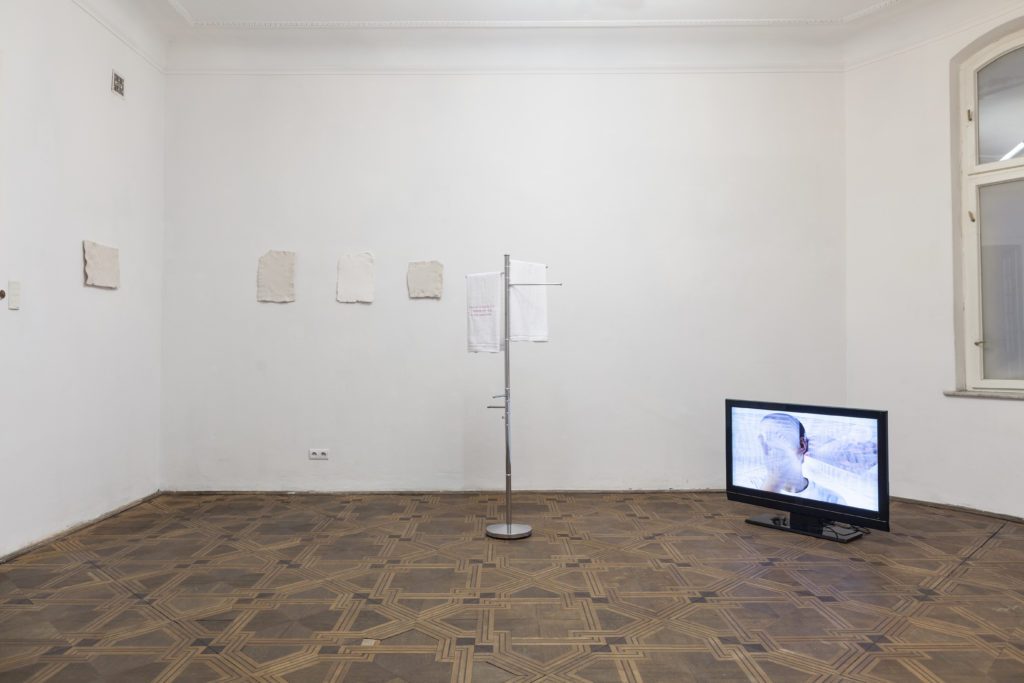 When Anna begins a new work, she starts with the hope of knowing something new about the material. She also wants to address a situation that she has met; such as demonstrators and café-goers, or migrant workers and agriculture. Her works both tell me and ask me things. They ask me about my uncertainty and discomfort. How to show solidarity in times of crisis? There is a contradiction for Anna who finds herself crying for those that are suffering, but once she has turned the corner, she has forgotten what made her cry. I can relate to this particular empathy. Finding myself caught up in conversation about institutional violence and everyday abuse. So I share an article, in the hope, that it will elicit a response that will push for change. In Solnit's essay, she says that when writing about history or ourselves we try to fill in the gaps. That what we say will always be imprecise:
There is so much we don't know, and to write truthfully about life, your own or your mother's or a celebrated figure's, an event, crisis, another culture is to engage repeatedly with those patches of darkness, those nights of history, those places of unknowing. They tell us that there are limits to knowledge, that there are essential mysteries, starting with the notion that we know just what someone thought or felt in the absence of exact information. [2]
Anna does this. In her work, we see Anna, but we can also see discomfort. Can we see ourselves in this, those that are on the fringes of political engagement? Magic Mud Mask (2016) does not criticize online political engagement, but observes it, rehearses it to understand. I can see myself in it, and it asks me, what is it that I am doing. What is this? And what is there to do? What is it that we are sending out into the world anyway? In artworks, in exhibitions, in texts, which at times can be like reposting a political slogan. Is it too much to call it an empty gesture? Much of what I am writing about relates to the video Magic Mud Mask, which is part of a larger installation that includes monogrammed hand towels telling the story of the demonstrators. The story is fragmented, and you have to pass from one hand towel to the other to get the whole story. As we know from Rebecca Solnit, this is not the whole story, and the gaps between the towels are just that, holes of an imprecise narrative. They become objects asking us if we want to wipe our hands clean. The problem is we can't clean them, , 'we are implicated because '[t]his is our situation now,' Deborah Bird Rose writes. She says:
We are called to intervene, and all too often we find that we are helpless to intervene. Here, now, in the face of all this loss, we are called toward an impossible position. To turn our backs on those who are targeted for destruction, or who are abandoned on a spiral of loss dealing toward greater destruction, is to refuse the ethical call. Inevitably, of course, it entails turning our backs on ourselves. To face others is to become a witness, and to experience our incapacity in this position. [3]
It is becoming increasingly more common not to know which direction we should turn. Do we fall towards the demonstrators? Do we fall towards the Sunday café goers? The passage that I quoted above is an article on the fragmentation of our world and the compartmentalizing that we are so easily able to do. For Deborah Bird Rose, she questions herself as a scholar, as a writer, and as a human being. She asks how through our work do we practice ethics and minimize our harm. She provides a momentary answer to the question that Anna asks herself in her work. And if we return back to Anna on her bike, we should remember that cycling is controlled falling. There is even a third possibility, which is to be like Anna falling over and over again between the café-goers and the demonstrators. With our eyes wide open.
[1] Rebecca Solnit, 'Woolf's Darkness' in Men Explain Things To Me: And Other Essays, (London: Granta Books, 2014), 85-106
[2] Rebecca Solnit, 'Woolf's Darkness' in Men Explain Things To Me: And Other Essays, (London: Granta Books, 2014), 87
[3] Deborah Bird Rose, 'Slowly ~ writing into the Anthropocene' in TEXT Special Issue 20: Writing Creates Ecology and Ecology Creates Writing, vol. 20, 2013: 1-14. Accessed on September 20, 2016: http://www.textjournal.com.au/speciss/issue20/Rose.pdf
Eloise Sweetman is a Western Australian curator, writer, and teacher based in Rotterdam, The Netherlands. She is co-founder and co-director of Shimmer Rotterdam, an independent exhibition space in the Rotterdam port. This text was published on the occasion of the exhibition "Roll on Roll on Phenomena until you are no more" curated by Eloise in Jan van Eyck Academie in 2017.